Focus Your Organization with the Strategy Compass
The Strategy Compass
The Strategy Compass organizes seven mission critical strategy statements into one simple page.  This is a great tool to pull all of your thoughts together and easily communicate the direction of the organization to others.  
Why does your organization exist?
What is the vision of your organization?
How do you want customers to view your organization?
What are the critical values that make up your organization's DNA?
What are the most important projects you are working on to drive growth?
How do leaders think and act in your organization?
How does the organization measure success?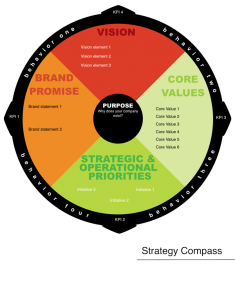 Of course this is FREE.   We enjoy sharing some free knowledge that we hope you'll find useful. Keep us in mind next time you have issues blocking your win!  We love to win and making wins happen daily is what we do.   We are here to help when you need. 
We will always keep your personal information safe. We ask for your information in exchange for a valuable resource in order to (a) improve your browsing experience by personalizing the Newbrier site to your needs; (b) send information to you that we think may be of interest to you by email or other means; (c) send you marketing communications that we think may be of value to you.
Download Your Free Copy of The Strategy Compass Today!